With our freshly released Urtext edition of the stunning "Brahmsian" Clarinet Trio Opus 3 by Alexander Zemlinsky (HN 578) we are closing two gaps at once. First of all, we are adding an important work to our offerings for this classical scoring, clarinet, piano and cello (or viola), to join such illustrious company as Mozart's "Kegelstatt Trio" K. 498, Beethoven's "Gassenhauer Trio" op. 11 and Brahms's Trio op. 114 (not forgetting Schumann's Märchenerzählungen op. 132 and Max Bruch's Acht Stücke op. 83 for the same scoring). Furthermore, our first edition of a Zemlinsky work now has the nifty side benefit of actually extending our comprehensive Urtext catalogue from A(lbéniz) to Z(emlinsky) .…
Surely, clarinettists will be particularly happy about a reliable edition of their important repertoire piece. First published by the Simrock publishers in 1897 and reprinted unchanged up to the present day with its innumerable errors and inconsistencies, this called for a thorough review.
Although many of Zemlinsky's score manuscripts have survived (especially in The Library of Congress, Washington D.C., and in the Austrian National Library, Vienna), the autograph of his clarinet trio has unfortunately had to be considered lost. The copyist's copies used for the trio's première (and probably as engraver's model for the first edition) are not extant either, so there are no further sources for consultation to clarify passages in question.
This is all the more regrettable, as the first edition was produced within a short time and obviously with little care, leading to the numerous errors mentioned. After none other than Johannes Brahms had recommended the trio to his publisher and friend Fritz Simrock for publication at the end of December 1896 and the music engraving had begun in January, the finished edition (piano score and parts) was already available in March 1897. So, there hardly seems to have been time for thorough proofreading. To make matters worse, Zemlinsky was extremely careless in notating his scores and checking the galley proofs, as Zemlinsky expert Antony Beaumont pointed out in his fundamental biography:
[…] the notation of his manuscripts and printed editions, particularly that of his earlier works, is plagued by inaccuracies, ambiguities and inconsistencies. Schoenberg once wrote of Zemlinsky, that when he first met him he was a Schnellschreiber (speed-writer), and recalled that while waiting for the ink to dry on a page of manuscript he would practise for his next concert. Evidently he found even less time for the delicate business of correcting his fair copies and checking printers' proofs.
Antony Beaumont, Alexander Zemlinsky. London 2000, p. 22
The following section from our engraver's model can perhaps give a small impression of the inaccuracies in the first edition – entered in red are all the additions and corrections that we made in our new edition: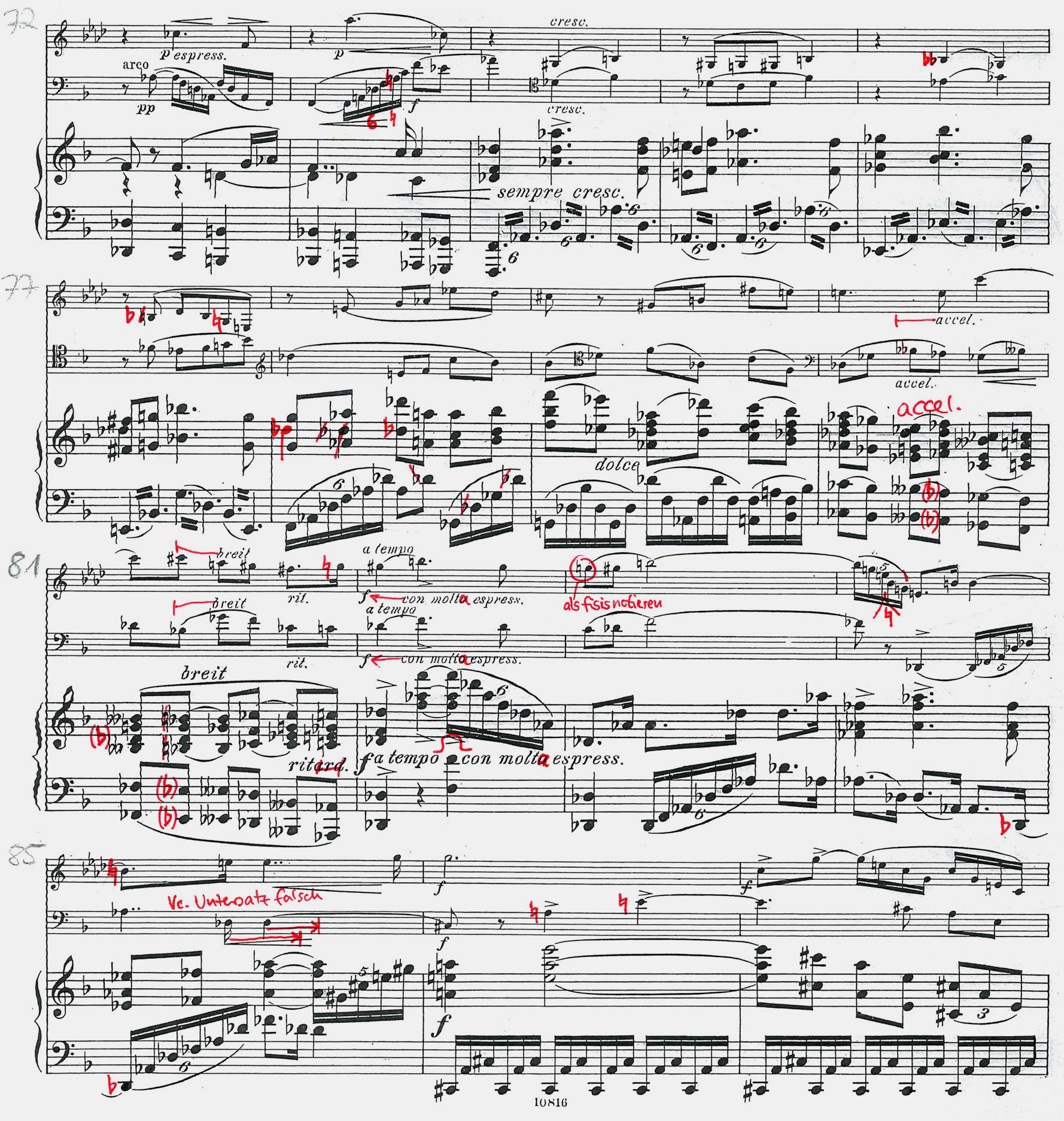 Trio op. 3, 2nd movement, mm. 72–87. The clarinet is notated here transposed to A. (Click on image to enlarge)
The missing or wrong accidentals can usually be determined with relative certainty from the musical context. Other spots are less clear, on the other hand, especially the "inconsistencies" mentioned by Beaumont among parallel passages or between score and the separate parts. Here are three examples for this, all taken from the piano part of the first movement (click on images to enlarge):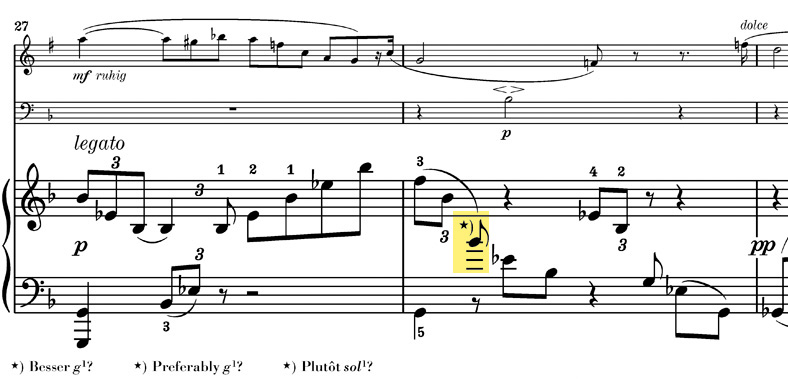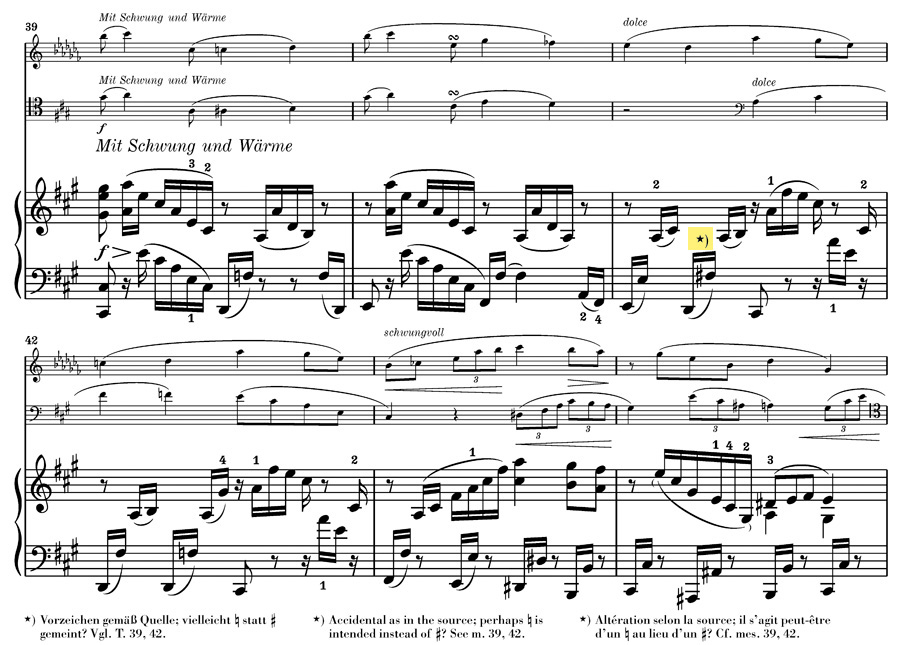 Here, our edition restricts itself merely to references in footnotes without touching the music text, since each change would be too speculative.
Questions such as these can probably be cleared up only if and when the autograph of the clarinet trio were someday to show up (but perhaps not even then, considering Beaumont's quotation above…). That a youthful work of Zemlinsky's resurfaced after more than a century has in fact occurred only recently: rediscovered a few years ago was the autograph of his cello sonata of 1894; it had ended up going to Great Britain with the cellist and dedicatee Friedrich Buxbaum and was located there in his family's possession (see the description by the cellist Raphael Wallfisch on his website; the manuscript can now be admired in the Juilliard Manuscript Collection). Buxbaum also took part in the première of Zemlinsky's clarinet trio. Who knows whether someday this autograph won't also find its way back to the public? That would be a great gain to the music world.