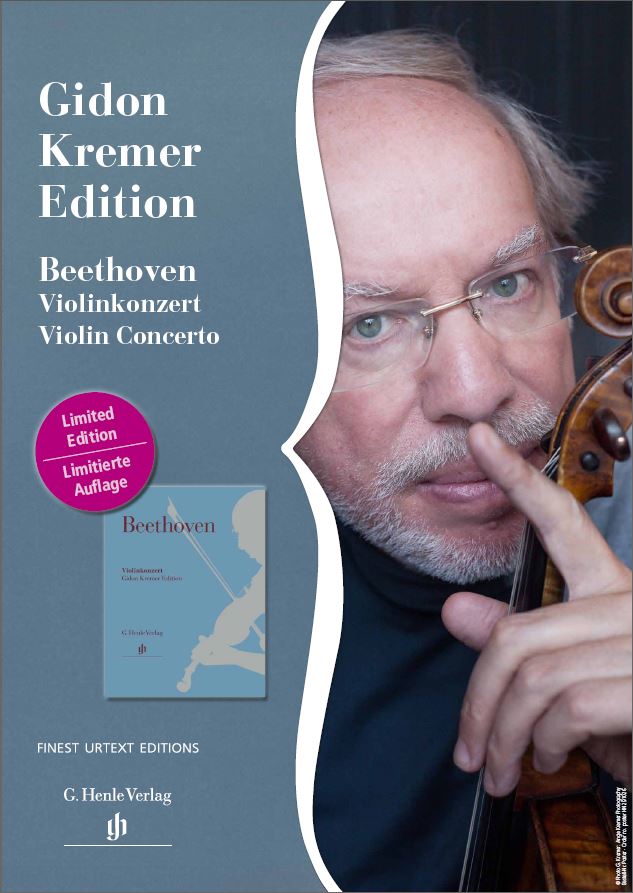 As early as September 2015 Dr Wolf-Dieter Seiffert, CEO of the G. Henle publishers, and Professor Friedemann Eichhorn, Director of the Kronberg Academy Masters programme, made plans to honour Gidon Kremer with a special edition on his 70th birthday. Both wished to celebrate the outstanding musician with a Henle Urtext edition that would reflect Gidon Kremer's artistic ambitions, therefore something simultaneously special, in line with the classical profile of our catalogue. Friedemann Eichhorn was successful in getting Kremer on board and available for the project about a year ago: It was to be an edition of Ludwig van Beethoven's violin concerto, based on the Henle Urtext edition, but becoming the Gidon Kremer Edition by way of the violinist's personal touch. Kremer contributed fingerings and bowings for the violin part, provided an essay on Beethoven interpretation and selected cadenzas especially close to his heart. The result is a unique edition, enabling every violinist to come to grips with this perhaps most magnificent of violin concertos in music history from Gidon Kremer's personal perspective. On this personal note, which – and here Kremer attaches great importance to this – is always to be at the service of the work, Friedemann Eichhorn could do a brief interview with Gidon Kremer:
Friedemann Eichhorn (FE): Dear Gidon, what does Beethoven signify for you?
Gidon Kremer (GK): A virtually unattainable height of the human spirit. Aside from that, his violin concerto is the most important, most beautiful, most difficult concerto in the whole violin literature.
FE: What role does the violin concerto play in your life story?
GK: I started it in 1974 when I was after all 27 years old, rather "late" compared with many of the young virtuoso violinists of our time. I was always aware of what an enormous challenge it was to play this work (like, for instance, also Bach's sonatas and partitas) and still feel that way to this very day. And yet I have succeeded within the last 40 years, together with important orchestras, in arriving at several "readings" that not only inspired me (here I think above all of Nikolaus Harnoncourt), but also served as evidence that it is still "playable".
FE: What is your objective in your bowing and fingering directions?
GK: As presented to me, the project was a commission that I could not resist. Certainly not in order "to vindicate" myself or to disseminate my form of access. Rather, I see this edition in a similar light to my concerts, recordings and other such projects. Underlying is always the desire to share my experiences and feelings with others. All should be encouraged to draw their own conclusions from it. What would rather disappoint me would be a direct "takeover" of my suggestions. All violinists – like everyone else – have to find their own way.
FE: You have chosen very special cadenzas, what are your thoughts behind this?
GK: In my life I have played many cadenzas (classical and modern) and have myself more than once tried to adapt for the violin Beethoven's original cadenzas composed for the piano version of the concerto. For certainly one can hardly design a cadenza better than Beethoven himself.
But one exception also further convinced me: I mean Alfred Schnittke's cadenza that I often perform. Alfred has admirably succeeded in composing at one and the same time an artistic homage to Beethoven and to the history since the work's genesis.
But Beethoven's original cadenzas never leave me alone, and so I asked my dear friend Victor Kissine – an outstanding composer of our time – to adapt the 1st-movement piano cadenza for the violin and hence to venture a new rendering of the Beethoven text. I think he has succeeded brilliantly! I am happy that his work (that I recently played in Zurich and on an Asian tour of the Tonhalle orchestra under David Zinman) will now have its first publication in the G. Henle edition.
FE: You have written an essay on Beethoven interpretation that is reprinted in the edition in connection with "your" violin part. What is most important to you when you are dealing with a musical composition?
GE: I'm always moved by one thing – recognising the spirit of a work and serving it.
For the Beethoven concerto, there are (and this will never change) endless possibilities for listening to and illuminating the mystery of the composition. My modest attempt is only one of the many attempts at a possible "approach".
This "approach" of Gidon Kremer's to the Beethoven concerto is now available for everyone in the edition also specially designed, optically. Wolf-Dieter Seiffert will formally present it on 11 May in Kronberg on the occasion of the birthday celebration. With it the G. Henle publishers most warmly congratulate Maestro Kremer on his 70th birthday!
In conclusion, our thanks go to: Gidon Kremer for his splendid collaboration and the provision of his contributions; Victor Kissine for his superlative cadenza, Friedemann Eichhorn for his help and untiring commitment, together with the Kronberg Academy, in support of the project.