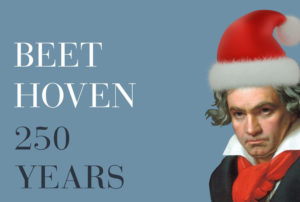 In keeping with our Beethoven blog to mark the composer's 250th anniversary, this year's Christmas post will also revolve around Beethoven, although, alas, he composed very little church music and did not – like Bach – leave us a wonderful Christmas oratorio.
From today's point of view, however, there is a work by Beethoven that is associated with Christmas, even if that was not the composer's intention. At the end of the 18th century when variations on themes from operas and oratorios became very popular, Beethoven joined in with his "12 Variations on a Theme from Handel's Oratorio 'Judas Maccabaeus' in G major WoO 45" for cello and piano. Not much is known about the work's genesis, but it was first published in 1797 by Artaria in Vienna. The theme of the variations pertains to the chorus "See the conqu'ring hero comes", which Handel composed in 1747 for the 3rd act of his "Joshua" oratorio and also introduced a few years later to "Judas Maccabaeus".
Nowadays, this theme is known mainly in Germany as an Advent lied "Tochter Zion, freue dich [Daughter of Zion, rejoice]". The song originated in Erlangen in the 1820s, hence long after Beethoven composed his variations on its tune. The Evangelical theologian Friedrich Heinrich Ranke underlaid Handel's choral movement with a new text, making changes to the music in a few measures at the same time. "See the conqu'ring hero comes" is, furthermore, in G major, while Ranke transposed "Tochter Zion" to E flat major.
Ranke's text is based on the book of Zechariah chapter 9, verse 9: "Rejoice greatly, O daughter of Zion; shout, O daughter of Jerusalem: behold, thy King cometh unto thee: he is just, and having salvation; lowly, and riding upon an ass, and upon a colt the foal of an ass." [King James Version]. The song was published in 1826 in the collection "Christliche, liebliche Lieder [Lovely Christian Songs]" under the heading "Am Palmsontage [On Palm Sunday]". It is not known how an Easter piece became an integral part of the Christmas season. Thomas Mann's 1901 novel "Buddenbrooks" does, however, already mention the song within a Christmas context.
Handel's melody was not performed everywhere as transformed into a song for the Advent season. In England, it is part of Henry Wood's "Fantasia on British Sea Songs" and is played almost every year at the "Last Night of the Proms". In Norway, the Netherlands and in English-speaking countries, the song remained associated with Easter as in, respectively, "Deg v're ére" or "U zij de Glorie" or "Thine is/be the glory, risen, conqu'ring Son".
Although Beethoven did not view his 12 variations as being within a Christmas context, the melody is now firmly linked to Christmas, at least in some regions. So, put yourself musically in the mood with Handel, Beethoven and Tochter Zion.
We wish you a Merry Christmas and a Happy New Year, 2020!
Your Henle blog authors,
Norbert Gertsch
Peter Jost
Norbert  Mülleman
Annette Oppermann
Dominik  Rahmer
Wolf-Dieter Seiffert