When a blog post about the 'Bonn youth' Beethoven falls on Shrove Monday, it can only be about one thing: Carnival! In the so-called fifth season, the Rhineland already partied hard during Ludwig's lifetime. But did you know that he actually composed carnival music?
This time we definitely don't want to kid you as we did in our Shrove Monday's post in 2015 when we posted a supposedly newly-discovered Beethoven carnival song (we did in fact get real orders for its printed edition!).
No, seriously, Beethoven composed music for a costumed ballet performance that premièred in Bonn on Carnival Sunday, 6 March 1791. The music is for an eight-number 'Knight's Ballet [Musik zu einem Ritterballett]' WoO 1 –  including a 'German song', a 'hunting song', a 'German dance', a 'Minnelied', and, especially important during Carnival, a 'drinking song' –  all of them pretty much forgotten today. Have a listen here.
The odd title 'Ritterballett [knight's ballet]' (introduced only decades later by Beethoven's childhood friend Franz Wegeler) indicates a costume ball with the theme 'German Middle Ages', as is suggested by a contemporary description of the event:
'On Shrove Sunday the local nobility performed a characteristic ballet in old German costume in the Redoutensaal. Its creator, His Excellency, the Count von Waldstein, honouring the composition of dance and music, had taken into account our forefathers' chief penchants, war, hunting, love and carousing. On March 8th [i.e., on Shrove Tuesday] all the nobility came to the playhouse in ancient German finery, and this procession afforded a great, splendid and respectable sight, and it was also noticed that the women would not lose any of their charm if they chose costumes of the past.'
The 'creator' named here, Count Ferdinand von Waldstein, is known as a supporter and friend of Beethoven's; he enabled the young composer to study in Vienna in 1792, so that, as Waldstein put it, he would receive 'Mozart's spirit from Haydn's hands'. Beethoven later dedicated to him one of his most famous piano sonatas, the so-called 'Waldstein' sonata in C major op. 53.
That Waldstein, as claimed, was the sole originator of the ballet's music and choreography is, though, not correct. At most, the music-loving count contributed a few melodic ideas, but we can assume that the composition must be attributed entirely to Beethoven. The ballet-music score now preserved in the Staatsbibliothek Berlin is also from his hand:
No pictorial evidence of this certainly very picturesque event has survived, but the painting by the court painter Franz Rousseau gives a nice impression of the Bonn carnival festivals and masked balls:
And what was Beethoven doing on Shrove Sunday 1791 as the 'knights' were dancing to his music?  The new Beethoven works' catalogue reveals from its sleuthing that he was most likely playing in the orchestra (Dorfmüller/Gertsch/Ronge: Ludwig van Beethoven. Thematisch-bibliographisches Werkverzeichnis, Munich, 2014, vol. 2, p. 3). For the ballet-music performance was the responsibility of the Bonn Hofkapelle [court orchestra], whose two violists at that time were verifiably a Herr Philippart as well as the young Beethoven. And since the viola part is often notated as divisi [in two parts], the presence of both violas was essential.
This hypothesis can now be substantiated by a sensational discovery: detailed examination of the aforementioned Rousseau painting reveals that the orchestra group at the extreme left in the picture clearly identifies Beethoven maltreating his viola:
And yet another striking indication that has so far escaped Beethoven research: the famous Cologne and Bonn carnival yell 'Alaaf' can be completely decoded to the tones A–La–A–F: a musical Soggetto cavato fully in the style of the Renaissance masters. And we actually do rediscover the tonal sequence a–a–a–f in no. 2 with the suitable title 'German Song' in the 2nd clarinet, mm.  9–11: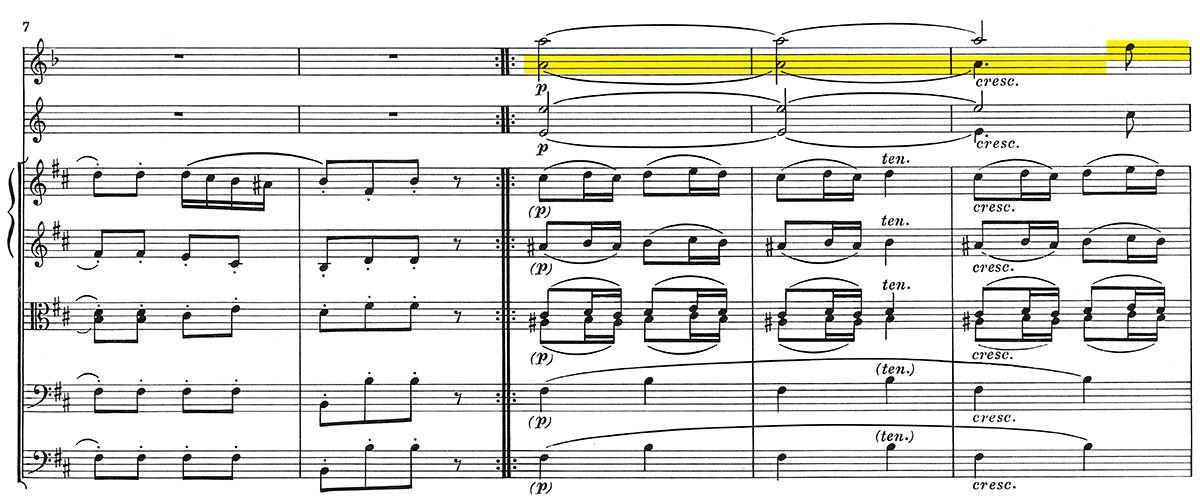 Only an ingenious mind like Beethoven's would be able to weave this motif into his composition as casually, as subtly and thus as secretly he 'thumbed his nose' at the stuffy Bonn masked court ball. Alaaf!