In my last blog post I already reported on our recently published new edition of Antonín Dvořák's Wind Serenade op. 44 (HN 1234), focussing primarily on interesting information about several scoring details provided by autograph sources and contemporary concert accounts. But why, in the first place, did Dvořák opt for such an unusual ensemble as 2 oboes, 2 clarinets, 2 bassoons plus contrabassoon, 3(!) horns as well as cello and double bass?  For in 1878, the year of its composition, the heyday of large-scale wind music was long past, and even though Bohemia, in particular, had made countless contributions to this repertoire through such composers as Krommer, Mysliveček, Vanhal, Družecký, Neubauer, Fiala, Dušek, and many others, it is not likely that Dvořák was acquainted with these works or had ever heard them.
A familiar and plausible explanation, probably going back to Dvořák's first biographer Otakar Šourek, is that in a concert during his stay in Vienna the composer heard Mozart's so-called Gran Partita, K. 361 (with twelve winds and double bass), suggesting that this auditory impression inspired his own serenade.
This assumption seems plausible not only because of the strong similarities in the scoring (Dvořák only dispensed with the then rare basset horns and the 4th horn and reinforced the bass section with cello and contrabassoon), but also because of direct musical references, such as the resemblance of his serenade's slow movement to the Gran Partita's first adagio (especially famous today since Miloš Forman's movie Amadeus).
All that is really documented, though, in this account is that Dvořák visited Vienna around the turn of the year 1877/78 and began sketching and writing his wind serenade immediately after his return to Prague. According to the dates in the autograph sources, the work was composed in just two weeks between 4 and 18 January 1878.

Wind serenade op. 44, sketch; inception of work is dated 4 January 1878.
Prague, Národní knihovna České republiky, shelfmark 59 R 2151 (view complete source)
So when and where, then, could he have previously heard the Gran Partita? We can learn something about this from his correspondence with Johannes Brahms, who, as is well known, was a great friend of Dvořák's music and promoted to the best of his ability his younger, then impoverished colleague. Brahms had campaigned for Dvořák's financial security by way of an Austrian state scholarship, besides also recommending him in December 1877 to his own publisher Fritz Simrock, a circumstance that soon made the Czech composer well recognised in Germany.
In two effusive letters of thanks to Brahms dated 3 and 19 December 1877, Dvořák still did not mention a meeting or a planned trip to Vienna, though he did write him on 23 January 1878:
"Most esteemed Master! About 3 weeks ago I began my intended trip to Vienna to express my personal thanks to your Excellency for all the favours shown to me. I was very sorry that I did not have the pleasure of meeting you before you left for Leipzig."
Antonín Dvořák – Correspondence and Documents, eds. Milan Kuna et al, vol.1, Prague, 1987, pp. 133f.
Documented is that Brahms left Vienna in the evening of 30 December, taking the night train to Leipzig, where he conducted an orchestral rehearsal the next morning. Dvořák's futile visit could therefore have taken place that evening at the earliest. That very day, in fact, Mozart's Gran Partita was on the programme of a midday concert by the Vienna Philharmonic, as reported in the daily press as well as in the orchestra's concert archives: see this entry. Dvořák could thus have heard this concert beforehand.
A contemporary review also reveals that only three of the Gran Partita movements were played, namely, the outer movements and precisely the Adagio that is so similar in character to Dvořák's own slow movement:


Signale für die musikalische Welt, 1878, no. 6, p. 86
Another odd circumstantial evidence also suggests Dvořák's concert attendance: According to a newspaper report, the Gran Partita in the said performance was played with a contrabassoon as well as a double bass and celli [sic]: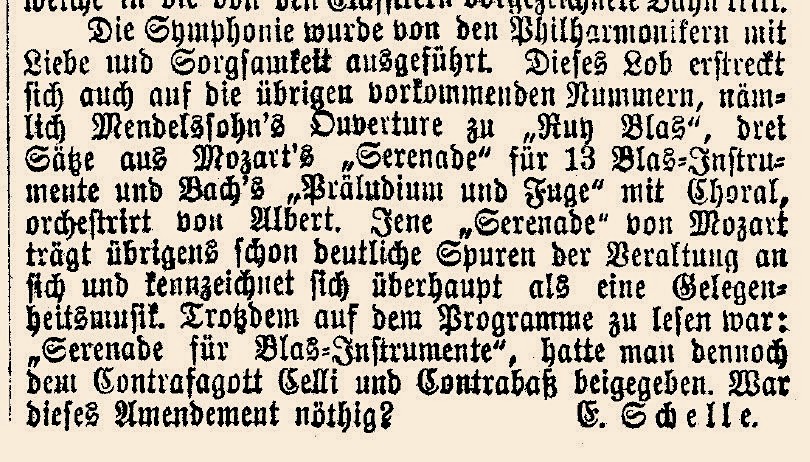 Die Presse, 8 January 1878, p. 2.
This unusually heavy bass group can be found exactly in this form in Dvořák's autograph of the serenade (planned for in the first edition is only 1 cello), so that the performance's function as a direct role model is very conceivable.
There is only one drawback to this theory: Brahms's 2nd Symphony in D major was also premièred in exactly the same midday concert on 30 December, in the presence of the composer…! If Dvořák attended this concert, would he really have passed up the opportunity briefly to "shake hands" with Brahms, who was the actual objective of his journey? And even if the diffident Dvořák were to have avoided making contact – wouldn't he at least have said a polite word about the new symphony in the letter quoted above? He doesn't mention it at all, reporting instead on a performance of Brahms's d-minor piano concerto in Prague.
So, doubts still remain about whether Dvořák really did hear the Gran Partita live on that occasion, unless there was perhaps another performance in the days following 29 December. Or did he later read the concert review and then out of interest in the scoring buy the music for his own study? A new edition was at least available, as the score had been published in 1861 by Breitkopf and Härtel.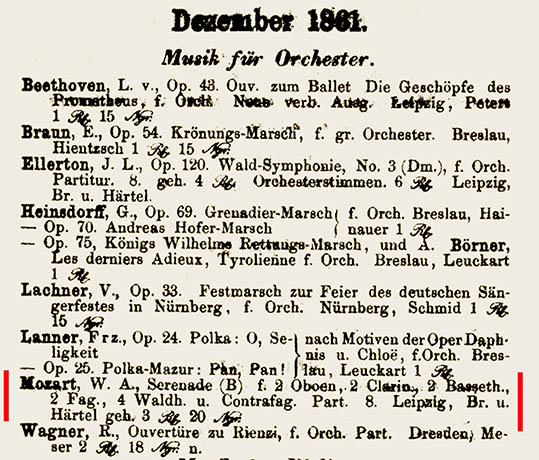 Hofmeisters Monatsberichte, December 1861, p. 218
Until further documents come to light, the question must remain open – only one thing is certain: that there is hardly a more worthy successor to the Gran Partita than Dvořák's Wind Serenade op. 44…