2023: 75 Years of "Finest Urtext Editions"
In October 1948, a difficult period, the music-loving industrialist Günter Henle founded his music publishing house. His passion was "Urtext": correct, unadulterated and beautiful editions of great works of classical music. Today we can look back on a great success story: 75 years of "Finest Urtext Editions". Thus throughout 2023 we will be celebrating Urtext and our special anniversary. The highlight will be a large gala concert with numerous internationally renowned artists in Munich's Prinzregententheater at the beginning of November. Come and celebrate with us!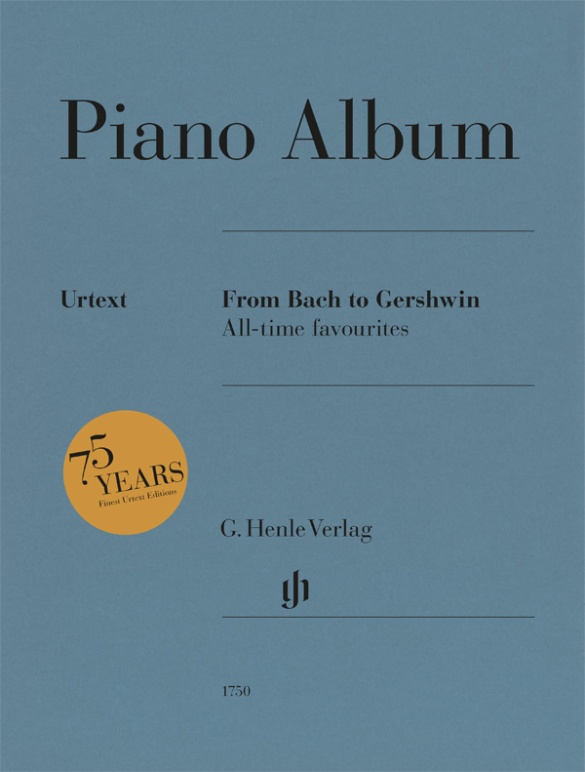 Further editions of this title
The HENLE ALBUM: "From Bach to Gershwin"
Our special anniversary edition is a particular treat for all pianists: it contains the best-known, most frequently played piano pieces from the Henle programme. Allow yourself to be tempted to sit down at the piano with Bach's C major Invention, Mozart's D minor Fantasy, Beethoven's Elise or Satie's first Gymnopedie – to name just four of the 17 titles of easy to medium difficulty. There are also wonderful pieces by Schönberg, Bartók and Gershwin. Arranged chronologically, this very reasonably priced edition (EUR 7.50, 44 pages) gives you an opportunity to explore the history of piano music from Bach to Gershwin.
Frank Peter Zimmermann has a longstanding and close relationship with G. Henle Publishers. In the video, he is one of the first to congratulate us on our 75th anniversary! Listen to his thoughts on Urtext, fingerings and bowings, his favourite works and his very close ties to the Henle family:
Our close friendship with numerous outstanding musicians around the world is especially close to our hearts. So on our 75th anniversary, we are delighted to have received so many birthday wishes in writing and in the form of pictures and videos! Over the course of the year, this gallery will continue to fill up, so it's definitely worth dropping by every so often. We hope you enjoy looking at it!
75 years ago, in 1948, Günter Henle founded his music publishing house at Prinzregentenplatz in Munich. From humble beginnings, one of the world's leading classical music publishers grew over the decades. "Urtext" was and still is our core competence: sheet music of the highest quality, reliable, durable, beautiful.
To mark this anniversary, G. Henle Verlag invites you to a concert in a class of its own: In a gala concert on November 3, renowned classical music stars will perform together with the Munich Chamber Orchestra under the direction of Christoph Poppen at the Prinzregententheater.
All artists will perform for no fee. All ticket proceeds from the benefit concert will go to the Kulturkreis der deutschen Wirtschaft im BDI e. V. and the Deutsche Stiftung Musikleben.
Look forward with us to:
Grigory Sokolov
Frank Peter Zimmermann
Martin Helmchen
Nils Mönkemeyer
Claire Huangci
Tianwa Yang
William Youn
Julian Steckel
and the Munich Chamber Orchestra conducted by Christoph Poppen

Do you miss meeting and mingling as much as we do?

It goes without saying that, at G. Henle Verlag, our first and foremost endeavor is to carry on the mission of the founder, Günter Henle, to make classical music available to all the music lovers in the world, in the highest possible quality.

Increasingly in the past years we have actively reached out to professional musicians and to our customers. Why so? Because, by talking and listening to what you have to say, we can steadily improve our products.
By becoming more and more active on social media, facebook and Instagram especially, we are in touch with our customers. That way we know what they like about Henle Urtext and what is important to them. Finally, we talk to our music dealers daily. We want to support their sales and find out from them what is moving the market.

We used to look forward with eager excitement to music fairs in Frankfurt and Shanghai, and also smaller conferences in other locations. Now that some are not taking place at all or being postponed, we decided to celebrate the 75th anniversary of G. Henle Verlag with a virtual Open Day that gives us – and you – the opportunity to get together.
» More Information and Registration