"I am very pleased and honored that G. Henle is the music publisher of my own compositions.
When it comes to sheet music I always regard Henle as my first choice."
Evgeny Kissin
Henle Interview with the Composer Komponisten Evgeny Kissin

[5:15]
Evgeny Kissin: Four Piano Pieces op. 1,2: Dodecaphonic Tango
Evgeny Kissin, Piano [2:47]
Evgeny Kissin: Violoncello Sonata op. 2, excerpt

Gautier Capuçon, Violoncello and Yuja Wang, Piano [2:59]
Evgeny Kissin: String Quartett op. 3
Making-of to the first recording by the Kopelman Quartet [8:47]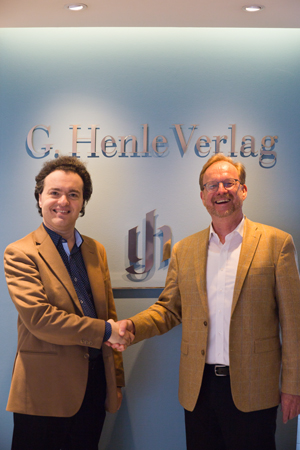 Most people will certainly be surprised to learn that you are not only a pianist but also a very gifted composer. How did that happen?
Kissin: In fact, I had a natural desire to compose music since I was a little child. As soon as I learned how to read music, at about six years old, I started writing down my own compositions. I tried different styles, and different instruments, but I learned about them from books. I loved reading books about different instruments. But of course, books are not nearly enough to learn what is really possible to play.
There is a funny story about it: One day I wrote something for the viola, so when I showed my work to a teacher in my school she said "it cannot be played on a viola". I replied: "OK, let the viola develop!" Or another one: I played with my schoolmate, a violinist, privately. He asked me to write a cycle of variations on some famous themes for his instrument. So I chose the first theme of Mendelssohn's violin concerto, wrote a cycle of variations and gave it to my friend. He looked at them and said to me a few days later "well, you know, if Jascha Heifetz would practice really well, he probably would be able to play half of it...".
And then came a point when I stopped hearing my own music in my head. I didn't know what to do next. That coincided with the time when my activities as a concert pianist began to increase. That was when I was about 15 years old.
A few years ago, I began to feel an urge to compose again.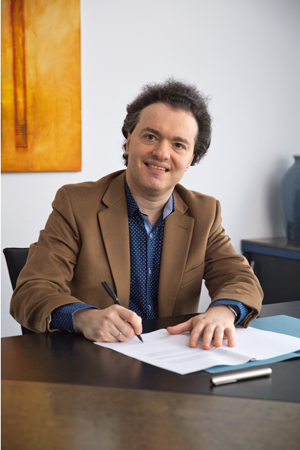 Was it then that you composed the 3 works that we at G. Henle have now the honor to publish as Opus 1–3?
That's right. First I wrote the four pieces for piano solo [op. 1], one of which, the "Toccata" I originally started to write down in 1986. But then I stopped after only a few lines. When I finished these piano pieces the admired composer Arvo Pärt gave me some precious advice about the "Meditation" [op. 1, nr. 1] which was absolutely right. So I made some corrections.
Afterwards I began to send my music to various musicians, performers, not hoping for anything. I asked them: "Please tell me honestly if you like it or not; I want to know it". And most people told me that they not only liked it, but they would be happy to play it – and they did play it afterwards.
Who, for instance, played your works already in public?
Steven Isserlis in particular became very enthusiastic about my sonata for cello and piano [op. 2]. He played it several times in different countries. Also David Geringas. And also Gautier Capuçon together with Yuja Wang played my cello sonata at the Verbier Festival.
Your third work is one without the piano at all, your string quartet op. 3.
I had never learned to play any string instrument. So, when I wrote my string quartet, my friends, the Kopelman Quartet – wonderful musicians – rehearsed it and they became very enthusiastic about it. So based on what I heard and after talking to them, I made appropriate changes. And they even recorded my string quartet! The Endellion Quartet also became interested in it not long ago; they gave the UK premiere of my op. 3 in Cambridge.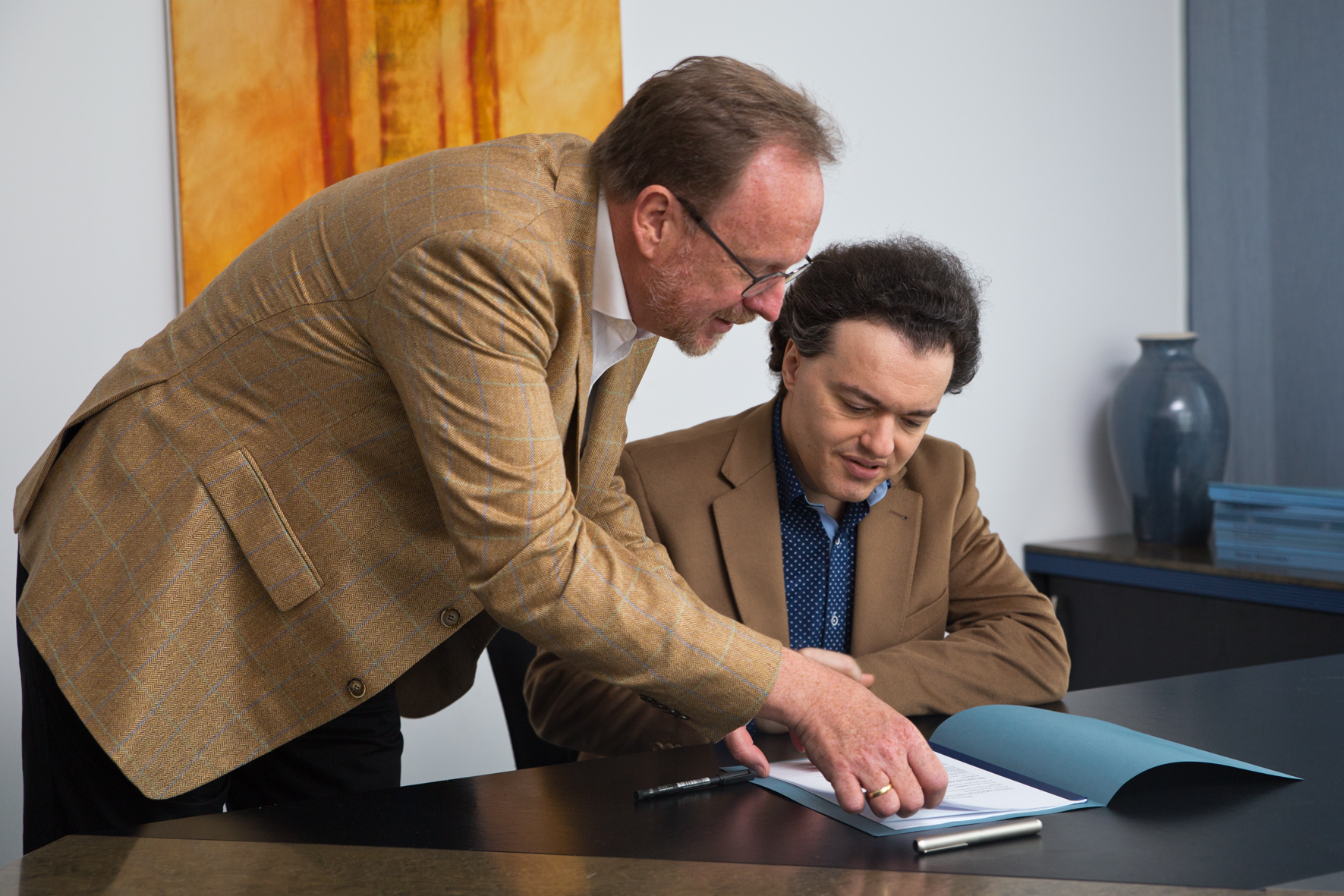 May I ask you why you've contacted G. Henle Verlag to publish your works?
Because you are the best, obviously, everyone knows this! I love studying music of great composers using Henle Urtext editions.
We are well known for our so-called Urtext editions exclusively of composers of the past. No contemporary music up to now.
You know, there is a first time for everything, maybe also for G. Henle Verlag. I can tell you a story. When I had just begun my music studies, I asked my piano teacher about a certain composer, and whether he was dead or alive. And then I asked: "why is it that everybody who wrote good music is dead?" Of course, I am not overestimating the value of my compositions at all. So I am very happy having found G. Henle as my publisher.
It is always a very special moment when a composition is recorded for the first time – we are very excited about the world premiere recording of Evgeny Kissin's Violoncello Sonata Opus 2 by Gabriel Schwabe and Roland Pöntinen on Naxos Records.
You can purchase this album here: https://naxosdirekt.de/items/russian-ballads-578677
Munich, 15 August 2021
Evgeny Kissin, Pianist and Composer
In a joint performance with Jean-Guihen Queyras, piano virtuoso and composer Evgeny Kissin presented an exclusive insight into his compositional oeuvre.
On August 15, 2021, one day after his recital at the Salzburg Festival, Russian pianist Evgeny Kissin demonstrated the impressive scope of his artistry at Salzburg's Villa Vicina: together with cellist Jean-Guihen Queyras he presented a selection of his own compositions, which have been published exclusively by G. Henle Verlag since 2019.
Dr. Wolf-Dieter Seiffert, Managing Director of G. Henle Verlag, is delighted to be able to offer Evgeny Kissin a platform as a composer: "A bond of friendship has connected Evgeny Kissin and Henle for many years. It grew from our admiration of him as an artist and his appreciation of our Urtext work."
Evgeny Kissin comments on the collaboration: "I am very pleased and honoured that G. Henle is the music publisher of my own compositions. When it comes to sheet music I always regard Henle as my first choice."
The publication of significant contemporary works is just one of the fields of work in which G. Henle Verlag keep their range of high-quality Urtext publications modern and up to date. For the performance in Salzburg, Jean-Guihen Queyras used the Henle Library App, for example – the publishing house's very own application. As the first major publisher to venture into the digital realm in 2016, G. Henle Verlag have, by now, firmly established themselves a market leader in the world of sheet music apps.
Review and photo requests
G. Henle Verlag, Olav Rossbach, Forstenrieder Allee 122, 81476 München, Germany
rossbach@henle.de, Phone +49-89-7 59 82-30
Photos "Evgeny Kissin at G. Henle Publishers, 2019"
Use free of charge. Copyright © A. Weiand/G. Henle Verlag.
For downloads please click on the images [JPG, 1,5 MB].
Photos "Press reception at Villa Vicina, Stiftung Mozarteum Salzburg, 15 August 2021"
Use free of charge. Copyright © W. Lienbacher/G. Henle Verlag.
For downloads please click on the images [JPG, 1,5 MB].